Welcome to Thundering Valley Ranch 
Home of TVR Morgans


Our goal is to produce the best Morgan horses that we can.  This means adhering as close as possible to the standards set by the breed.
 
Characteristics and qualities of the Morgan horse that we look for, as breeders, are a natural love of people, willing attitude, athleticism, trainability, classic movement, beauty and of course Morgan type!
 
We feel our carefully chosen stallions and mares possess all of these attributes, which will provide our breeding program with the qualities necessary to meet our goal of producing the best possible Morgans.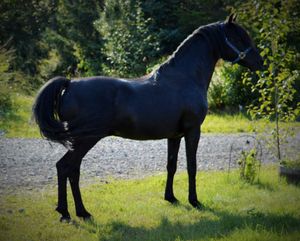 We invite you to browse our website and hope you enjoy viewing all of our beautiful Morgan horses!
 

Last Update:  
November 5, 2023